To "Create a Team" or "Join a Team" is easy and fun to do!

Click on REGISTER and set-up or join a Team during the registration process. Each person will need to use their own email address. For questions on how to

register children

without emails,

please go to "Event Information" on the menu bar above, select "Event Info" and scroll to the bottom of the page. We look forward to seeing you at the Race!

Not available on Race Day? You can still be a hero by selecting the "

Race from Home

" option when registering. We will mail you a Race T-shirt, bib and finisher medal!
Teams and Participants
Select a Team: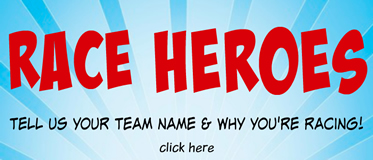 I'm volunteering & running this year
This will be my first race ever! I signed up for the one mile only and I'm having my last soda splurge today! My sons school is one mile from our home and I just power walked my first mile in 16 minutes! I'm so excited to do this for my son! I even bought him a black cape at Target for race day! AND raised my first $24 in recycling for my goal! #soblessed #soexcited

I love this!! My family will be doing the "run at home" option since we live out of State. Sharing on my Understanding Liam page to encourage my family & friends in So Cal to join in!!
Let's do it
This is the race I texted you guys about! Let's do it!!
I can't wait for my medal!
Team "Lego Landon for Life" will be there!
We get medals:):):):




Sonia LoveHov
February 21 at 5:43am

Team: Just B!!!
My nephew Barris reminds us to JUST B who we are and together we can put all the pieces together!!!


Eileen Valero
February 20 at 8:10pm

Team iWALKK - Our Ohana participates to promote & raise Autism Awareness within our Community w/our amazing Family & Friends!! See you on Mar. 21st!!





Debra Anne Miller-Harshaw
February 20 at 8:08pm

This is our first time, no team name but we are racing/walking for my 22 yr old daughter Tiffanni, I love her sooooooooo much



We are racing with Hawthorn Huskies because we are Husky Proud (for Hawthorne Elementary) and because the ASD family and supporters are the strongest most amazing people everrrrrrrrrrrrrrrr!!!!
Im running this in Joshua's honor
I walk because I have terrific family members who have autism and who work hard every day to make the world better for folks with autism and their families! #TeamScrambledEggs
Can we enter as a virtual runner. We aren't there this year we run for Wyatt. #TEAMQUIETWYATT

#teammilliesmiles I race for Millie because she is my life and reason for pushing thru the tough times. #race4autism
My wife and I are racing for my son who loves Toy Story, so our team name is Trent's Round Up Gang.
This will be our 4th year for Team Adam! Adam is my 7 year old son who was diagnosed PDDNOS at 18 months, and then we got our autism diagnosis at age 3. He works so hard to communicate with us, we are so proud of all of his accomplishments. This is a very dear cause to my family and myself. ?? I love going every year and meeting new family and getting great info from all of the different vendors. This truly is a wondering resource. Thank you guys so much, and many more supportive years to come. #raceforautusmsandiego
Team thunder and lighting hunter oelke
#TeamEndurance and my siblings and I'll be racing for my boy Arthur. Who has autism and multiple disabilities. He will be joining us as well as my 2yr old. :-) #mommysDemons
Go Xander's team!




Team Millie's miles walks for Millie's journey! We walk to get the word out and support the rest of our community. #race4autism





Yay, I'm excited!! I'm doing it in the honor of my 3 year old who has autism!!!(;





Noah's Super Hero's will be as well.. If it's only two of us...





that is sooo cool! are we going to dress up? or get cool shirts?





If you don't have a team feel free to join ours :) https://www.raceforautism.org/Team/View/6161/The-Autism-Avengers
I'm racing for my daughter Millie as team Millie's Miles. I do it because she is an inspiration to me and I will climb mountains, swim the roughest waters to make sure she has a better chance of life. #race4autism




· Feb 6
We are Team Super Hunter and we are racing in the #Race4Autism and raising awareness because we want to help support @NFAForg.
We wanna go!